Recreational Activity Vehicle 4-Wheel Drive. That's what the Rav4 stands for and this year, Toyota has released a hybrid version of this popular compact crossover sport utility vehicle. A constant favorite among Toyota enthusiasts, the 2019 Toyota Rav4 Hybrid is here for your consideration.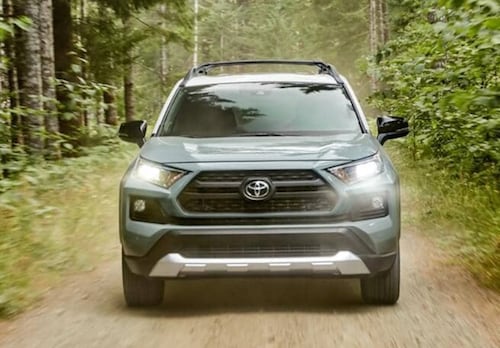 There is much to admire in this latest iteration of Toyota's popular SUV. From its aggressive front and stylish all-around exterior to its comfortable and very modern interior. And let's not forget its main selling point: fuel economy which is best in class. It's innovative hybrid technology coupled with a very capable driving performance. Can this be the SUV you've always wanted? Let's take a look.
The Rav4's Background
Toyota's compact SUV was first launched in the country in 1996 and quickly became a top selling model for the Japanese automaker. From as few as 56,000 units sold during its first year here, the Rav4 has been, on average, increasing its sales figures with its biggest annual sales record achieved in 2018 with over 400,000 units.
With the growing popularity of hybrid vehicles, the 2019 Toyota Rav4 Hybrid is poised to contribute more to its popularity.
However, this latest model is not the Rav4's first foray into 'green' technology. Back in 1997 (yes, merely a year after its US introduction) Toyota released an all-electric version that came with a nickel-metal hydride (NiMH) battery pack, capable of reaching 95 miles with a single charging. This model was sold until 2003.
A second attempt at another 'green' Rav4 was the Toyota Rav4 EV which was built in partnership with Tesla Motors. The latter designed and produced the battery pack and the powertrain. This second generation EV used a 41.8kW-h lithium ion battery and had a range of 103 miles, a few miles farther compared to the first Rav4 EV. This model was in production from 2012 to 2014.
Toyota is banking on the increasing interest of car buyers to go hybrid or all-electric. Hybrid vehicle sales in the US has been over the 300,000 mark for the past few years and Toyota clearly wants a slice of that profitable pie.
The Looks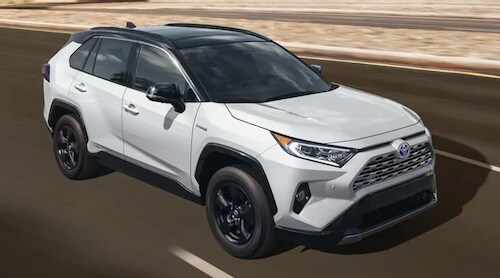 Compared to the previous generation, the 2019 Toyota Rav4 Hybrid looks awesome! It has a truck-like appearance and definitely a more muscular exterior styling. It's a solid effort for the Toyota design team for them to give us this inspiring design.
The front has that aggressive look and feel, like a bull staring at you. But move your gaze around it and you will immediately notice the refinement that the Rav4 brings to the hybrid crossover segment. It does look good and rough at the same time, as if it's saying "Take me anywhere and I will fit in".
While most crossover SUVs these days are curvy, the Rav4 is more boxlike which is a good thing as it definitely makes it stand out in this increasingly competitive segment. It has a ground clearance of 18.1 inches, higher by 7 inches compared to the previous model. It comes with either 17-inch silver alloy wheels or 18-inch black sport alloy wheels. LED projector-beam headlights and Daytime Running Lights both come standard across all trims.
As to the interior, you will not be disappointed as the Rav4 Hybrid combines style and comfort. The seats have SofTex-trimmed surfaces which are really great to the touch. It has a panoramic glass roof for a unique driving experience.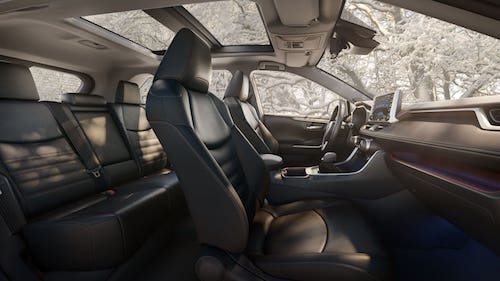 There is plenty of space inside with 37.6 cubic feet of cargo space and with a 60/40 split reclining fold-flat rear seat, you can even carry more stuff inside the Rav4. Also available is an 8-way power-adjustable driver's seat with memory function to help you find that perfect seating position.
It also has the latest version of Entune, Toyota's proprietary integrated multimedia and navigation system using an 8-inch touchscreen with Apple CarPlay compatibility.
And since we are always with our electronic gadgets, Toyota added five USB ports with one media port in the front storage tray and four USB charging ports equally divided between the front center console and the back of the center console. These ports are perfect for long drives to keep all your tablets, phones, and other equipment always charged.
The Performance
The 2019 Rav4 Hybrid uses a 2.5-liter inline-4 Toyota Hybrid System II engine that produces 219 net horsepower. It uses a multi-electric motor assist with an output of 118 horsepower and 149lb.-ft and a 244.8V sealed Nickel-Metal Hydride (NiMH) traction battery All of this power is sent to the four wheels of the Rav4 since it's an All-Wheel Drive vehicle.
It has an impressive fuel economy of 41 mpg in the city and 37 highway for a combined 39 mpg. These numbers alone should be enough to make anyone want this crossover hybrid SUV.
This Rav4 is also fast, capable of going from 0 to 60mph in just 7.5 seconds, a few milliseconds faster than the previous generation.
Power is distributed using an Electronically Controlled Continuously Variable Transmission, effectively changing gear ratios for an unmistakably smooth drive. It contributes to the Rav4's great fuel economy.
And finally, there are five drive modes you can choose from depending on the road''s surface you find yourself driving on: Normal, Sport, Trail, Eco, and EV. Keep in mind that the system will not allow you to shift to EV mode should your vehicle is short on charge.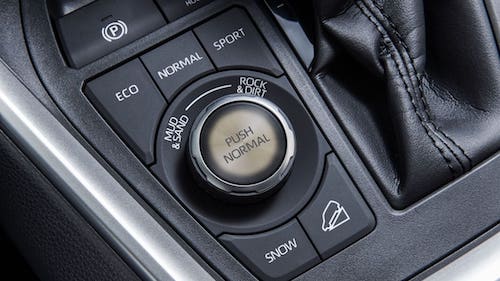 It's a Powerful Green Choice
The 2019 Toyota Rav4 Hybrid is a definite strong contender in the hybrid category and even the popular crossover SUV segment. It has everything any driver would want in a vehicle. Power, handling, safety features, and class-leading fuel economy. So if you're still asking yourself "Which SUV should I buy?", then the answer is the Rav4 Hybrid.