Are you looking for your Toyota Truck or SUV's Towing Capacity? Well, we have you covered.
We have included Towing Capacity terms to help you understand what everything means and some basic towing capacity information for your vehicle.
We also have included a link to Toyota's VIN lookup for those wishing even more information for their vehicles.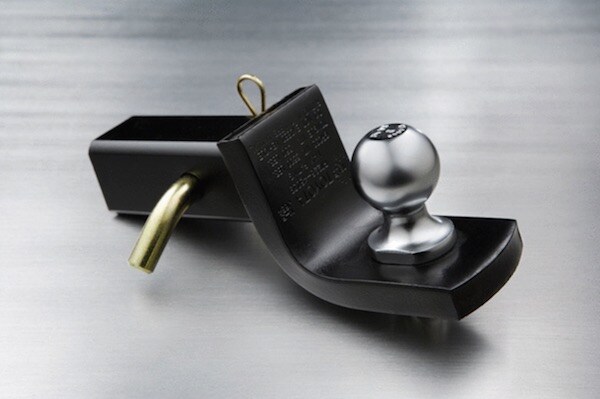 Towing Capacity For Your Toyota Truck

Towing is the pulling of a weight behind a tow vehicle, usually on a "towing-on-the-ball" hitch trailer or other similar wheeled devices. Here are a few towing terms that you should know before your next towing adventure.
Tongue Weight: Tongue weight is simply the downward force that the tongue of the trailer exerts on the hitch that is connected to the vehicle. It's important to know since tongue weight can affect a vehicle's driving performance. If the tongue weight is too high, your truck will sit low and can lift the back of your truck. A good rule of thumb is to have a tongue weight of around 9-15% of your trailer's gross weight.
Gross Axle Weight Rating (GAWR): The gross axle weight rating (GAWR) is the maximum distributed weight that may be supported by an axle of a road vehicle. Typically, GAWR is followed by either the letters FR or RR, which indicate front or rear axles respectively.
Gross Vehicle Weight Rating (GVWR) or gross vehicle mass (GVM): Is the maximum weight of a loaded vehicle (vehicle + passengers + cargo). The GVWR is provided explicitly by Toyota for their trucks.

Gross Trailer Weight (GTW): The gross trailer weight rating (GTWR) is the total mass of a road trailer that is loaded to capacity, including the weight of the trailer itself, plus fluids, and cargo, that a vehicle is rated to tow by the manufacturer.

Gross Combined Weight Rating (GCWR): This measurement is a combination of Gross Vehicle Weight Rating (GVWR) + Gross Trailer Weight (GTW).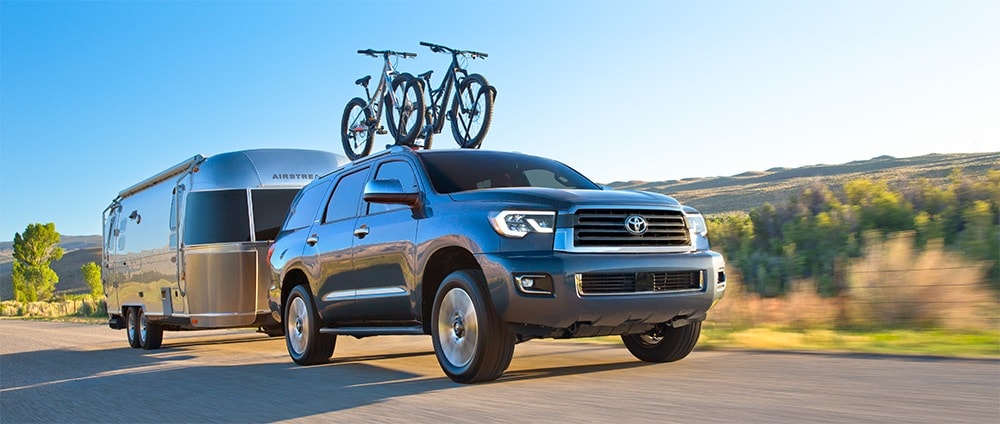 Toyota Towing Capacities
Toyota Towing Capacity Table
| | | |
| --- | --- | --- |
| Year | Model | Max Towing Capacity (lbs) |
| 2019 | 4Runner | 5000 lbs |
| 2019 | Highlander | 1,500 to 5,000 lbs |
| 2019 | Land Cruiser | 8,100 lbs |
| 2019 | RAV4 | 1,500 lbs |
| 2019 | Sienna | 7,100 – 7,400 lbs |
Important Toyota Towing Capacity Information

Note: When in doubt of actual towing capacity, check your owner's manual and/or ask your dealer.

The Toyota towing capacity should also be located on the driver's side front door's Toyota manufacturer's ID tag. There should be the acronym "GCWR" meaning Gross Combined Weight Rating. The GCWR weight rating represents the maximum combined weight (Truck + Trailer).

Quick Tip: You can use a truck scale to measure a vehicle (loaded - passengers and luggage that will be traveling while towing). The value will be the "GVW" Meaning Gross Vehicle Weight. Subtracting (GCWR - GVW) will give you the maximum weight that can be towed.

Find Toyota Truck's Towing Capacity by VIN Number
The Toyota's website contains a vehicle lookup by VIN number for those owners wishing to get more information pertaining to their Toyota vehicles.
Entering your VIN in the Toyota Owners vehicle specification page will bring up lots of information on your Toyota truck or SUV. This includes towing information such as Gross Axle Weight Rating (GCWR) and Max Towing Capacity numbers.