Welcome to Toyota of Midland! Come by and see us at our new location at 800 North Loop 250 West, right across from Grande Communications Stadium!

NOT ALL CAR DEALERSHIPS ARE THE SAME!
At Toyota of Midland, you can expect Superior Customer Service - before AND after the sale. That's why we say, "Our Quality Deals Bring You In and Our Service Brings You BACK!" We are also proud to display the
President's Award
for Outstanding Achievement which we've won
THREE
times; NOT an easy feat. We have proudly served Midland, Odessa and the Permian Basin and our steady growth proves it. When you first step into our new facility across the street from Grande Communications Stadium, you'll see why we're the only Signature Certified Toyota dealer in the Permian Basin.

 WE STRONGLY BELIEVE IN OUR COMMUNITY!
Toyota of Midland is proud to support our community. We do this through local programs, and through various programs sponsored by Toyota USA. You can read more about this here:
http://www.toyota.com/usa/ourstory/index.html#/usa/ourstory/our-purpose
OUR TEAM IS STRONG!
The staff at Toyota of Midland is here to help you purchase a new or used Toyota in the Midland and Odessa area and beyond. Whether you live in Greenwood, Stanton, Big Spring, Andrews, Kermit, Crane, McCamey, Lubbock or Lamesa, we're ready to deliver your car, truck, van or SUV in a way that will make you feel as if it was built just for you. Get the new Toyota that you have been dreaming of by calling (432) 689-5500, or by visiting our new, modern facility at 800 North Loop 250 West in Midland, Texas today.
OUR QUALITY DEALS BRING YOU IN!
Need Financing? The Toyota of Midland finance team has you covered when it comes to finding low interest financing in the Permian Basin. We are also proud to be listed as a Preferred Dealer with My Community Federal Credit Union. We also work with a network of financial institutions to make our customers' dreams of owning a new Toyota or a quality pre-owned vehicle come true? TODAY! Permian Basin customers choose Toyota of Midland because we're committed to leaving you 100% satisfied with your purchase. With everyday low prices and a huge selection of new cars and trucks by Toyota, you'll save time and money by visiting Toyota of Midland. We feature all the popular models like the Camry, Corolla, Sequoia, Highlander, 4Runner, Tacoma, Tundra Double Cab and the Tundra CrewMax. Contact our sales team right now by calling (432) 689-5500, or come by 800 North Loop 250 West, across from Grande Communications Stadium. When it comes to high quality, competitively priced used vehicles in the Permian Basin area, Toyota of Midland is an excellent choice. We maintain a large selection of used vehicles as well as Certified Pre-Owned Toyotas. Visit our used car showroom - every vehicle you see has been through a detailed inspection by our auto technicians, and will run reliably for years to come.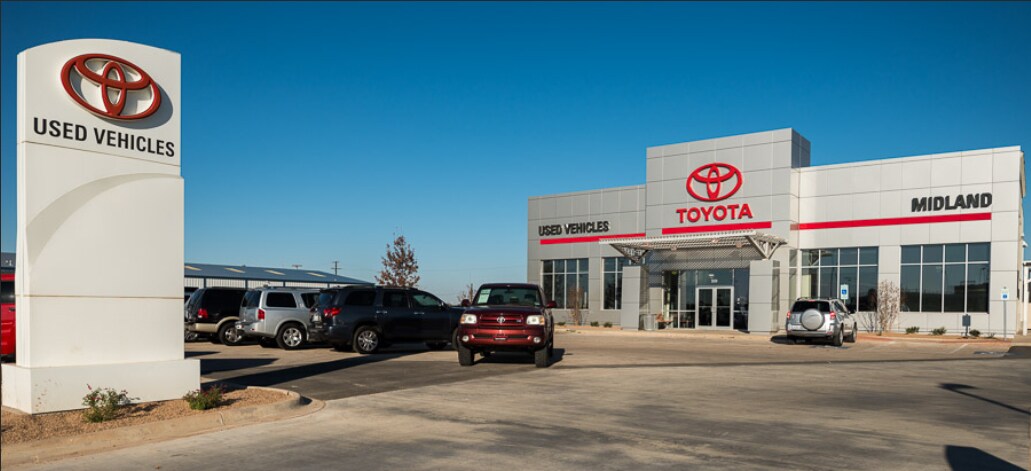 OUR SERVICE BRINGS YOU BACK!
See how quickly we can service your vehicle and get it back on the road with our new Express Maintenance Service, or get a fast and price-competitive oil change at our new Quick Lube. The Toyota of Midland Service Department has the resources to keep your vehicle running as well as it did the day you drove it off the lot. Toyota of Midland's skilled Auto Technicians have spent years working on Toyota cars and trucks and will accurately diagnose your vehicle's problem and quickly repair it right the first time in our new state-of-the-art service department. During your short wait, enjoy our new, comfortable waiting area with internet access and other amenities for your comfort and convenience. Don't forget, we're now located at 800 North Loop 250 West, across from Grande Communications Stadium, in Midland.
WE HAVE MORE!
Toyota of Midland offers Genuine Toyota Parts and Accessories to the Permian Basin area so that you can maintain your vehicle on your own, if you so desire. Using only genuine Toyota parts and accessories will keep your vehicle in top condition for many years to come. Order your Toyota auto parts online, and then visit our dealership, now on the Loop across from Grande Communications Stadium, to pick up your auto parts or accessories when they arrive.
All of us at Toyota of Midland would like to thank you for your interest in our dealership. Call us anytime at (432) 689-5500, or visit us in person; we look forward to having the opportunity to earn your business.
Michael Fisher, our General Manager says,
"Our Quality Deals Bring You In & Our Service Brings You Back"
and we stand behind that statement. At Toyota of Midland you're not just another customer with a customer number; we greatly appreciate your business and our new relationship. Contact any of our Sales Team, to schedule a test drive or for more information on a particular vehicle of choice. Remember, we're just a short drive from you, and the superior service you expect and deserve.

NOW LETS SHOP! 
Click here to start your New or Pre-Owned Vehicle Search
Value Your Trade