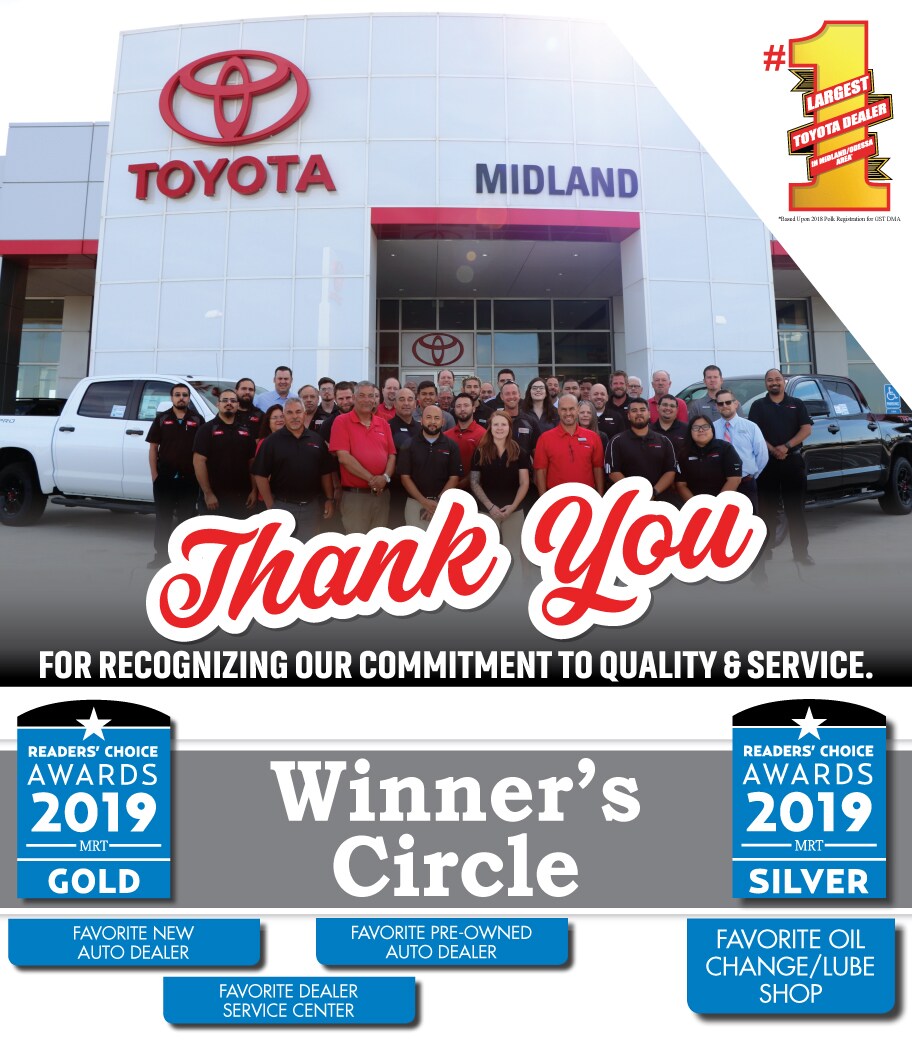 An award-winning dealership located in Midland off Loop 250, Toyota of Midland helps to meet all of your Toyota needs including new and certified used cars, trucks and SUVs, the latest Toyota products, as well as a service department that can help make repairs and have your vehicle back on the road.
Whether you live in Midland or Odessa, or in other areas in and around the Permian Basin including Greenwood, Stanton, Big Spring, Andrews, Kermit, Crane, McCamey, Lubbock or Lamesa, Toyota of Midland has superior customer service and is ready to help find the perfect vehicle for you.
General Manager Michael Fisher has been in the business for 20 years. He credits the over 80 employees who work in a variety of roles that have helped see the dealership receive recognition for their commitment and dedication to their customers before, during and long after a sale.
"We're a local Toyota franchise that works very hard to take great care of all of our customers and we focus on doing things the right way," Fisher said. "One of our sayings here is that our quality deals bring you in and our service brings you back."
The service department at Toyota of Midland can help service your vehicle in a quick and timely manner to help get it back on the road. The experienced and knowledgeable service staff can help handle everything from quick oil changes to diagnosing a vehicle's problem and helping get it back to top condition.  The state-of-the-art service department also provides a comfortable waiting area with amenities including wireless internet access and more for your comfort and convenience.
Toyota of Midland offers the latest in genuine Toyota parts and accessories right in the heart of the Permian Basin. Instead of having to travel long distances, the dealership provides all of your parts and services as needed.
The dedicated staff at Toyota of Midland is in place to help take care of every need from the first trip to the dealership and everything after. Many employees at the dealership have several years of experience in the profession. That includes several in the service department who have been with Toyota of Midland for over 10 years and continue to strive to provide top quality service each and every day.
Toyota of Midland is a four-time winner of the coveted President's Award, one of the highest honors a car dealer can receive from Toyota Motor Sales for having demonstrated a commitment to maintaining Toyota's high standards for customer satisfaction.
"The President's Award is a great honor that shows the hard work of everyone at the dealership who strive to serve all customers and do great work each and every day," Fisher said.
If you're looking for a new or certified used car, truck or SUV, or need service to get your Toyota vehicle back to its top working condition, visit Toyota of Midland today.